Daiho Maritime was formed in 1989 to provide barges for nearshore construction projects undertaken by Daiho Projects Services. After contributing success to the latter company, Daiho Maritime expanded its services to offshore oil and gas. In 2008, the company began through the charter of the Daiho I barge to an international oil company for their exploration activities in offshore Sarawak, Malaysia
To expand the Group's presence into the offshore oil & gas sector, Daiho Energy Services was formed in 2007 and started its business by collaborating with engineering partners to provide turnkey solutions for marginal oil field development. Daiho Energy Services built the Daiho II, which was one of the key equipment that contributed to the success of our turnkey solution. In fact, the use of the Daiho II helped our client achieve the first oil production 16-24 earlier than the conventional method at 12% lower CAPEX and 45% lower OPEX.
Daiho Energy Services intended to pursue its main ambition that is to provide sophisticated transportations and low-cost solutions to international oil and gas players. In 2012, the company built the Cape Support 1 – a double-hulled, specialized barge that can enhance offshore oil and gas exploration activities. Equipped with numerous features, the Cape Support 1 can improve efficiency in fluid storage, tank cleaning and tank maintenance, as well as reduce risks of cargo contamination. The barge also has multiple functionalities as it can be outfitted as a mud barge or mini FPSO/ well-test barge.
Projects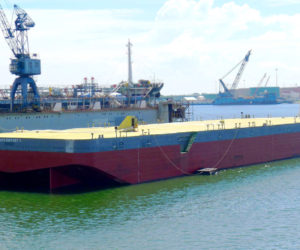 Cape Support I
Daiho I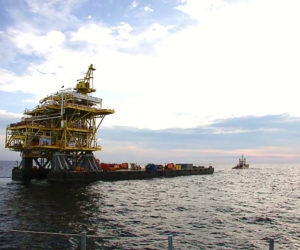 Daiho II
Cape Support I

Type of vessel: Doubled-hulled fuel/oil chemical barge Vessel can be outfitted as a: 1) Mud Barge 2) Power Generation (generator/turbine) 3) Mini FPSO & Well Test

Daiho I

Type of vessel: Storage Barge Vessel is welded steel construction flushed deck and with twin skegs divided by 7 transverse watertight bulkheads and 3 longitudinal Watertight bulkheads into 32 ballastable

Daiho II

Type of vessel: Flat Top Barge World's first repeatable float-over installation barge without the use of heavy crane
For more details on our barges for Offshore Oil and Gas projects, visit:
– Daiho II: repeatable float-over installation barge for topsides and jackets over marginal fields
– Cape Support I as a Mud Barge: for drilling mud storage, treatment and transportation
– Cape Support II as a Mini FPSO and a well testing barge